Staff cuts make room for new programs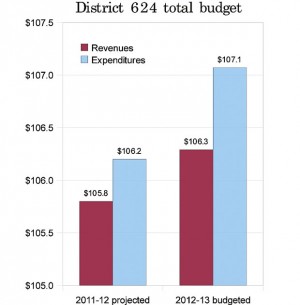 Kristine Goodrich, White Bear Press, June 20, 2012 –
WHITE BEAR LAKE — District 624's spending and revenues both are budgeted to grow by less than 1 percent next school year.
The District 624 School Board unanimously approved a 2012-13 budget last week that balances new spending on a few new initiatives by cutting support staff.
In the district's main operating fund, expenditures will climb $1.5 million, due to inflationary costs and the new programs. Operating revenues will grow $400,000, thanks primarily due to an increase in state funding meant to compensate for a delay in when those state funds are paid out.
This year's operating revenues exceeded expenses and the fund balance grew. Next year they are projected to balance at $78.5 million and the reserves will hold steady at $15 million.
Director of Business Services Pete Willcoxon said the stable operating budget is thanks in large part to voters renewing the district's operating levy last year. The levy includes an annual inflationary increase.
"We are not in a position of  making substantial budget reductions like a lot of districts across the state are, and that is because of the support our community has given us last November," Willcoxon said. "It's going to allow us not only to maintain what we've been able to build over the last five years of the last operating levy, but do some very good things for kids over the next six years of this current operating levy."
In addition to retaining current programs and class sizes, next year the district plans to add instruction of a second language for fourth- and fifth-graders, implement the International Baccalaureate program at the middle schools and hire more middle and high school counselors. It also is setting aside $50,000 to support additional goals identified in the district's strategic plan, although those goals are yet to be determined.
Cutting some staff positions and trimming staff hours — primarily paraprofessionals and other support staff — and outsourcing the transportation department will offset the new operations spending.
In the food service fund, noteworthy plans include a  5 cent increase in meal prices and a remodel of the South Campus cafeteria.
The Community Services and Recreation budget includes 5 percent fee increases for sports and Extended Day, and cost cuts including eliminating the community grant program and reducing the summer playground program to four days a week.
The debt service fund reflects recent refinancing of two loans at lower interest rates. There also is $8.8 million in new loans, to be repaid by an ongoing special tax levy, to fund facility maintenance projects.
Total spending will rise 0.8 percent to $107.1 million while revenues will rise 0.5 percent to $106.3 million. Reserves in various accounts will be drawn down to cover the difference.
http://www.presspubs.com/white_bear/news/article_cf436b2e-ba6f-11e1-a886-001a4bcf887a.html