Mahtomedi District trims costs to offset revenue decline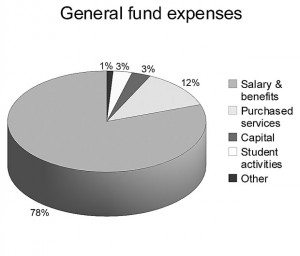 Kristine Goodrich, White Bear Press, June 20, 2012  –
MAHTOMEDI — District 624 is trimming spending while revenues are expected to dip in 2012-13.
On June 14, the Mahtomedi School Board approved a preliminary budget for next school year. Staffing cuts, fee increases and other measures aimed at helping balance the budget were approved by the board last month.
General fund operating revenues were budgeted at $32.24 million, down 1.6 percent from the present year. Operating expenses were set at $32.27 million, down 0.3 percent. The nearly $35,000 difference between revenues and expenses will come out fund reserves. The fund will then have a healthy balance of nearly $6 million, according to Director of Business Services Denise Sundstrom.
The decrease in revenues is due largely to the expiration of a more than $500,000 federal stimulus grant, Sundstom said.
The previously approved spending reductions mostly involve staffing cuts, including eliminating the special programs director position and trimming the hours of Wildwood music teachers, O.H. Anderson paraprofessionals and middle school electives teachers. The high school also will use a less expensive private security firm instead of the Sheriff's Office to patrol the school.
New revenues include a $50 per pupil increase in state funding that was intended to cover district's borrowing costs because the state payments will be late. Sundstrom said it appears Mahtomedi will "just barely get by" without having to borrow.
The district also is increasing fees to participate in athletics by $20 and other extracurricular fees by $10.
In the food service fund, spending will exceed revenues by more than $250,000, with the difference coming out of reserves. The spend-down was planned and will fund kitchen equipment at the new Wildwood Elementary, Sundstrom explained. Meal prices won't increase.
The Community Education budget is projected to come out $61,000 in the black. The budget includes funds to bring in Stillwater's Community Education director to help lead Mahtomedi's department part time.
http://www.presspubs.com/white_bear/news/article_10cee37c-ba6e-11e1-a1c6-001a4bcf887a.html